Jason's virtual collection of National Scout Jamboree Patches and Memorabilia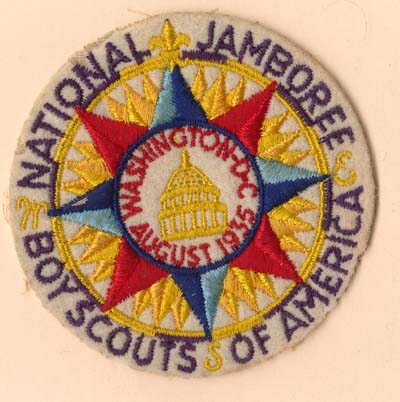 1935 (This jamboree was going to be the first one, but it was cancelled due to a Polio outbreak.) Would have been in Washington, D.C.
Pocket Patch (original). These tended to get eaten by moths, but since the jamboree didn't happen, they are fairly plentiful in good condition. They have fine embroidery and purple letters. There are two different shades of yellow thread.
There are two slight variations, one with bright red thread, one with deeper red thread. Here are the two of them side by side for comparison.
An original wax paper bag that the original 1935 jamboree patches were issued in.
A very convincing patch, which is actually a reproduction. I have seen this variety listed as an original, however I now have it on good authority that this is a reproduction. Note the semi-circular shape of the capital dome.
A reproduction of the 1935 pocket patch issued by the BSA national office. It has a semicircular capital dome, not pointed. The inner circle is also yellow, not blue as in the original.
Another reproduction of the 1935 pocket patch issued in the 1970s. Again, this one has blue letters and only one yellow thread color.
Two different reproductions of the 1935 pocket patch issued by Bates around 1977. These have only one dark color of yellow, not two as the originals do, and blue letters instead of purple.
Here is a side by side comparison of four of the 1935 national jamboree fakes and reproductions. Thanks to the folks at Heart of Texas traders for the scan.
Here is a curious piece. This patch is very similar to the 1935 patch, however it says "The hole benders, service, experience." Somewhat odd that it doesn't mention the BSA on it anywhere. It appears to be fairly old, although I somehow doubt it is from 1935. If anyone out there knows more about this one, let me know.
Blue youth neckerchief 1935.
Red youth neckerchief 1935.
Blue adult neckerchief 1935.
Red adult neckerchief 1935.
Jamboree staff neckerchief 1935. The neckerchief is purple with orange printing. These are quite rare and usually sell for well over $1000. A good guess is that there are less than 10 of these known today. Thanks again to J. Conley Williams at Heart of Texas traders for the scan.
The troops were to be identified by red felt troop strips to be worn on the top of the sleeve of the uniform. These are typically known as 'half moons'. Here is an example of one. If I read it right, this one was for troop 5 in region 7.
A few more examples of the half moon troop strips.
Sea scout ship strip from the 1935 and or 1937 jamboree. Definitely worn at the 1937 jamboree, possibly these or similar were planned for the 1935 jamboree.
This patch appears to be from the 1935 jamboree, although it doesn't say it so. It says "Jamboree Honor Camper" and has the capital logo on it, albeit roughly. If anyone out there has more information about it, please contact me.
1935 jamboree region 4 band strip. The patch has black back stitching.
1935 Jamboree Pennant.
1935 National Jamboree Troop Flag. Quite rare. (Thanks Randy!)
Invitation letter inviting a scout to attend the 1935 jamboree.
Participant card issued to scouts going to the 1935 jamboree. (Thanks Gail!)
1935 National Jamboree Poster. The second scan is the same thing in the form of a card. Designed by Normal Rockwell.
Another type of 1935 National Jamboree Poster.
A different type of 1935 Jamboree poster. Not sure exactly where this originated from. If anyone out there is familiar with this item, drop me an e-mail.
A different type of 1935 Jamboree card.
A full set of 1935 National Jamboree decals.
1935 Jamboree tour pin. Issued to a troop touring the U.S. in lieu of the jamboree. Pin was given to members of the troop by the great northern railroad. Information provided by R. Crowley, troop 43, San Francisco.
1935 National Jamboree stationary.



Back to my Jamboree Collection Homepage