Jason's virtual collection of National Scout Jamboree Patches and Memorabilia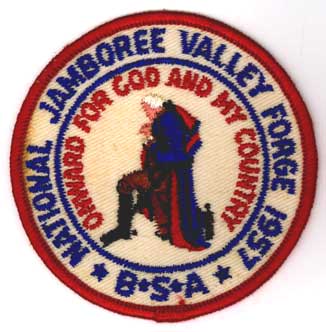 1957 Valley Forge, Pennsylvania.
1957 Pocket Patch. These came in two minor varieties. The stars around the date were either fat or skinny. Here is the one with the stars around the date fat.
1957 Pocket Patch. Here is the one with the stars around the date skinny.
Here is a good side by side comparison of the two types of 1957 pocket patch. The one on the left is the rarer variety.
Reproduction of a 1957 Pocket Patch made by the BSA to be sold as a set at the 1973 jamboree. Has a plastic backing.
1957 Jacket Patch. These came in two varieties as well. There were either large letters, noticed by a block 7 in the date, or skinny letters with a curly 7 in the date. This is the curly 7 variety.
1957 Jacket Patch. Here is the one with the straight or block 7 in the date.
1957 jamboree jacket patch reproduction made in the late 1970s by Ang.
1957 Jamboree jacket with Jacket patch.
1957 Jamboree Neckerchief. To my knowledge there is only one variety.
This was one of a set of neckerchiefs supposedly sold at the 1960 jamboree to commemorate the previous jamborees.
1957 Jamboree Neckerchief. This neckerchief was given to an adult leader in Region 10. I am not sure if it is just the regular neckerchief with a ribbon added, or whether its different entirely, but its certainly interesting. (Thanks, John.)
1957 jamboree brass neckerchief slide.
1957 Leather Patch. This was something introduced for the 1957 jamboree.
1957 Jamboree Decal.
1957 jamboree pennant.
1957 Jamboree troop flag. These are quite rare due to the small number of them around.
1957 Jamboree Brass Pin.
Another 1957 Jamboree Pin.
1957 Jamboree souvineer book.
1957 Jamboree booklet.
1957 Jamboree map.
1957 Jamboree guide arm band.
1957 Jamboree paperweight.
1957 Jamboree stationary.
1957 Jamboree coin.
1957 Jamboree knives (two types).
1957 Jamboree necktie. I can see why they only made these for this Jamboree. Not very attractive.
1957 Jamboree tie clip.
1957 jamboree ladies scarf.
1957 jamboree souvineer bowl.
1957 jamboree bracelet.
1957 jamboree belt buckle.
Another 1957 Jamboree pin.
1957 Jamboree pin for mothers. Almost more of a charm.
1957 roundup patch. (Thanks Dave.)
A reproduction belt buckle done in the 1970s that uses the 1957 Jamboree seal.



Back to my Jamboree Collection Homepage