Jason's virtual collection of National Scout Jamboree Patches and Memorabilia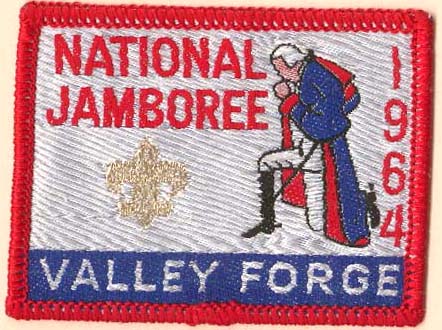 1964 Valley Forge, Pennsylvania.
1964 Pocket Patch with wax backing.
Here are two different types of the 1964 pocket patch with the wax backing. There are slight differences in Washington's hair. Also, compare the relative placement of the '4' in 1964 and Washington's foot. It is likely that these were two (of potentially several) production runs.
1964 woven silk Pocket Patch.
1964 Pocket Patch in canvas. This may have been a prototype or a private issue. If you have information on it, please let me know.
A reproduction of the 1964 pocket patch made to be included in souviner sets sold at the 1973 jamboree. Has a plastic backing. Be careful, the original had a WAX backing, not the plastic iron on one that the repro does.
Cotton neckerchief 1964. They actually made two varities of neckerchief in 1964. One had wide letters and the other had narrow letters. Note the differences here.
1964 Jamboree Neckerchief Slide.
1964 Jamboree Leather Patch.
1964 Jamboree Jacket Patch.
1964 Jamboree Jacket with jacket patch.
1964 Jamboree Jacket Patch reproduction made in the late 1970s by Ang.
Another type of 1964 Jamboree Jacket Patch. I am unsure as to exactly how many of these there are and who they were produced for.
1964 Jamboree Bolo tie reproduction. These were made in the late 1970s to be sold at Jamborees then.
Brass pin 1964.
1964 Jamboree coin.
1964 Jamboree Hat Patch. These diamond shaped hat patches were sold on hats at the 60,64, and 69 jamborees.
1964 Jamboree staff hat patch. The same design as the regular hat patches, but for staff only. Possibly used just for staff of Valley Forge Council.
1964 Jamboree troop flag. These are quite valuable.
1964 Decal.
1964 Jamboree pennant.
1964 Jamboree adventure award. This had to be earned at the Jamboree by the participants.
1964 Jamboree medal.
1964 Jamboree bracelet.
1964 Jamboree charm. To be worn on a charm bracelet.
1964 Jamboree tie clip.
1964 Jamboree t-shirt.
1964 Jamboree commemorative book.
1964 Jamboree pamphlet advertisement.
1964 Jamboree belt buckle. There are plenty of reproduction belts out there. This is the only one I know of that was BSA produced for th 1964 jambo.
1964 Jamboree plate.
1964 Jamboree trading post ticket.
1964 Jamboree map.
1964 Jamboree paperweight.
1964 Jamboree scarf holder.
Other assorted items from the 1964 Jamboree including a pin, a coin, and a paperweight.



Back to my Jamboree Collection Homepage