Jason's virtual collection of National Scout Jamboree Patches and Memorabilia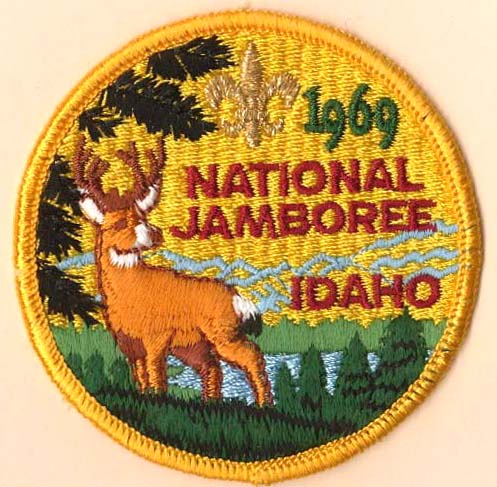 1969 Farragut State Park, Idaho.
1969 Pocket Patch. More common variety.
There were actually two slightly different types of 1969 pocket patch. Its easier to tell the differences if you see them side by side. So, here they are, both front and back. Probably just two separate runs from different patch companies.
A reproduction of the 1969 pocket patch made to be included in souviner sets sold at the 1973 jamboree. Has a plastic backing.
1969 Jamboree Participant's Neckerchief.
1969 Jamboree Souvineer Neckerchief. This was sold at the 1969 Jamboree and had all the previous jamboree logos on it. The second scan shows the envelope it came in.
1969 Jamboree Neckerchief. This one says "I was there. 7th National Jamboree Idaho". It was a council issue from a council in Washington State for their contingents, even though there are no identifying marks saying so.
1969 Jamboree Neckerchief Slide.
1969 Jamboree Small Leather Patch. Apparently originally marketed as a coaster at the 1969 jamboree.
1969 Jamboree Large Leather Patch.
1969 Jamboree Rocker or Wide Game segment. These were strips that could be earned that fit under the jamboree pocket patch.
Late in Jamboree the scouts were given cards with letters on them. Camp Theodore Roosevelt received a "T". Object was to spell "Building To Serve." Scouts walked around the jamboree until they had all the cards. They then went to a check station where the stamped the cards and gave the scout the arc to wear under his PP (Thanks, Jim).
Each scout would receive a pack of identical cards when he arrived. Then througout the jamboree he would have to trade his cards for cards from other regions, which other scouts received when they arrived. (Thanks Gary for the explination!) The pictures show the different cards that were involved.
1969 Jamboree Jacket Patch.
1969 Jamboree Jacket Patch reproduction made in the late 1970s by Ang.
1969 Jamboree Bolo ties. There were two varieties.
Enamel pin 1969.
A set of all the 1969 Jamboree manuals.
1969 Jamboree coin.
1969 Jamboree Hat Patch. These diamond shaped hat patches were sold on hats at the 60,64, and 69 jamborees.
1969 Jamboree Decal.
1969 Jamboree pennant.
1969 Jamboree troop flag. Note that all Jamboree troop flags are quite rare and expensive due to the limited number in existence.
1969 Jamboree souvineer book.
1969 Jamboree ladies scarf.
1969 Jamboree tie clip.
1969 Jamboree medallion.
1969 Jamboree cuff links.
1969 Jamboree belt buckles.
1969 Jamboree belt buckle reproduction done in the late 1970s.
1969 Jamboree trivette.
1969 Jamboree knife. Made by Zippo for sale at the trading posts.
1969 Jamboree dish or small plate.
1969 Jamboree stationary.
1969 Jamboree t-shirt.
1969 Jamboree salt and pepper shakers.



Back to my Jamboree Collection Homepage