Jason's virtual collection of National Scout Jamboree Patches and Memorabilia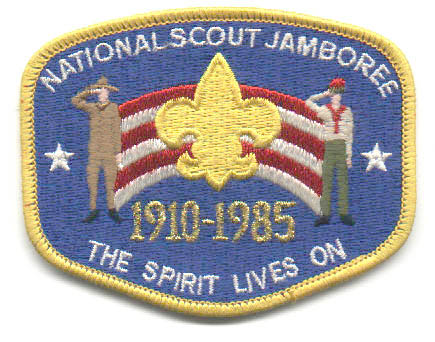 1985 Fort A.P. Hill, Virginia.
1985 Pocket Patch.
Prototype of 1985 Pocket Patch. Has a gold mylar border and a twill background. (Thanks, George!)
1985 Jamboree Neckerchief.
1985 Pewter Jamboree Neckerchief Slide.
1985 Jamboree Leather Patch.
1985 Jamboree Rocker or Wide Game segment. These were strips that could be earned that fit under the jamboree pocket patch.
1985 Jamboree Staff strip. This was worn over the pocket patch.
1985 Jamboree Jacket Patch.
1985 Jamboree Jacket Patch prototype. Note the lack of full embroidery and the black outline to the Fleur-de-lis.
A private issue 1985 jamboree jacket patch. This one is quite different than the officially issued BSA version. I don't have that much info on it.
1985 jamboree jacket patch. In the shape of a balloon.
1985 Jamboree trading post A staff patch. Each staff crew issued their own patches. Here is an example.
1985 Jamboree hat patch.
1985 Jamboree Bolo tie.
Hurricane Bob hit the 1985 Jamboree. Here is a patch commemorating the event.
1985 Jamboree metal pins. There were four issued of similar design.
More 1985 Jamboree pins.
1985 Jamboree pin in the shape of a baloon.
1985 Jamboree button pin.
1985 Jamboree coin.
1985 Jamboree Stickers.
1985 Jamboree Belt buckle.
1985 Jamboree pennant.
1985 Jamboree Trading Post Tickets.
1985 Jamboree Boys Life Insert.
1985 Jamboree newspaper describing the wonders of Hurricane Bob.
Set of pins made for sale at the 1985 jamobree that have one for each previous jamboree. Be careful not to be offered one of these as an orignial for pre-1985 events.



Back to my Jamboree Collection Homepage